Are you Looking for Exterior Waterproofing services Iin Hyderabad ?
Use of inferior quality of sand grit and cement in construction of building, after a few years outer surface of wall gets damaged.
Waterproofing on exterior walls
Use of inferior quality of sand grit and cement in construction of building, after a few years outer surface of wall gets damaged. When the dammed portion exposed to rain and UV rays, a variety of air cracks formed on the exterior walls. Because of invasion of warm air in the cracks, it reaches till interior portion of the wall. These cracks damage the interior portion of the walls hence paint peels off from the wall.
Solving these types of problem is quite necessary because it reduces the life of your building. Here waterproofing treatment can be done only from outside the building. It requires a higher level of expertise to solve the issue permanently. Expenditure of waterproofing on the exterior walls depends on the size of cracks formed and height of the building. While hiring a waterproofing contractors, you must ask about the procedure of work and quality of materials they are going to use.
If you are also facing water leakage problems on the exterior walls and looking for the right guidance. Then book your slot by filling accurate details on form and submit it. Our waterproofing Expert will soon visit your place to guide you properly. We provide the best professional waterproofing to give you a permanent solution.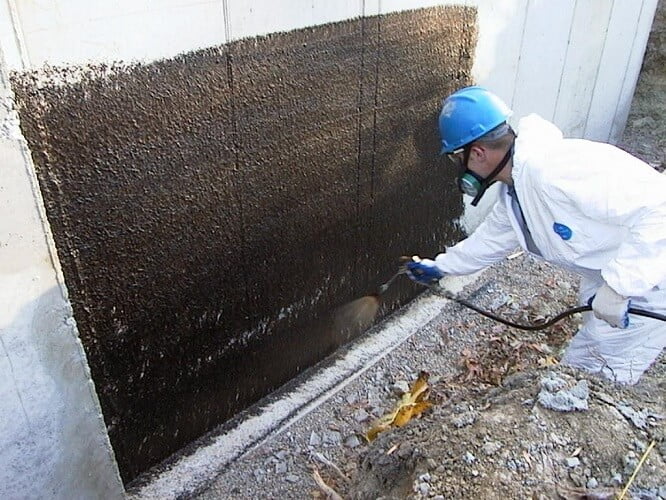 For doing waterproofing on exterior walls, liquid membrane requires perfectly clean surface for proper adhesion. We should clean the roof surface to remove the dirt and other impurities from the surface. Pressure washing is the most common method used to clean the surface in the most effective way. Air crack should fill it with the standard quality of metallic crack filler. Now sand the filler properly to get the even surface. Now use the waterproofing net and apply gray cement or other suitable mixture to protect the layer of net. Apply one coat of primer throughout the surface and leave it for at least twenty-four hours to dry the surface properly.Apply at least two coats of liquid membrane on the primed surface. Quality of liquid membrane depends on the budget and requirement.
Why choose us for waterproofing on the exterior walls
Our team comprises dedicated and highly skilled Waterproofing Expert
Provide you with the best possible result to satisfy you with work in every manner.
We maintain the topmost quality of work throughout the entire process till end.
Our helpline team is active 24/7. you can contact us anytime on our helpline number.
Guarantee of work completion within the time.
We always offer you best Competitive Market Price.